There has been a significant change in how we view tourniquets in the past few years. Where they were once thought to cause limb damage, we now know that tourniquets save lives. The risk of limb damage is actually very low, but the potential to save a life is huge.
Thus, campaigns like Stop the Bleed, are working on training the public about tourniquets.
If you aren't sure how to use a tourniquet, read our article on the topic. It goes over the step-by-step instructions on how and when to apply.
Choice of Tourniquet Matters
In a disaster situation where you have nothing else, an improvised tourniquet – such as a bandana or torn clothing – is better than nothing. However, improvised tourniquets are likely to fail.
Why?
Tourniquets must apply huge amounts of pressure to collapse veins and arteries. Weak, flimsy materials simply can't exert this much pressure. Further, the tourniquet must be secured in place.
The two tourniquets we recommend have systems that allow for tightening and securing them. These tourniquets are proven to work.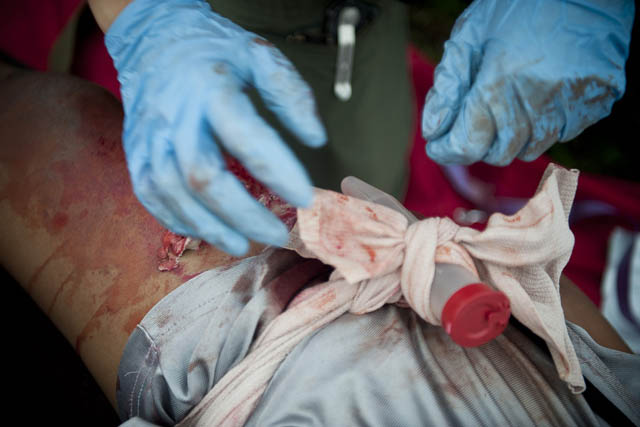 Recommended Tourniquets: CAT-7 and SOFTT-W
There are only two tourniquets we can recommend. The first is the Combat Action Tourniquet 7th Generation (CAT-7) made by North American Rescue. The other is the Special Operations Forces Tactical Tourniquet – Wide (SOFTT-W) made by TacMed.
These are the main tourniquets that soldiers carried in Operations Enduring Freedom (OEF), Iraqi Freedom (OIF), and New Dawn (OND)—also used by police officers, EMS paramedics, the American Red Cross, and approved for use by the Department of Defense.
They are proven to work and recommended by the Committee on Tactical Combat Casualty Care (CoTCCC).
Note: The exception is if you need a tourniquet for a small child. In this case, we'd recommend the TacMed K9 tourniquet. More on tourniquets for children later.
CAT vs. SOFTT Tourniquets
Of the two tourniquets, CAT is carried by more police officers, soldiers, and paramedics. However, this doesn't mean the CAT is better than the SOFTT. Both are very good tourniquets.
There are a few differences between them.
Width: CAT is 1.5″ wide; the original SOFTT is only 1″ wide. Choose the upgraded SOFTT-W, which is also 1.5″ wide.
Material: CAT is made from Velcro-backed webbing. SOFTT is made of thicker webbing.
Weight: SOFTT is heavier at 4.3 oz (vs. 2.2oz) because of its thicker webbing and heftier hardware.
Buckle: CAT uses a traditional buckle, whereas SOFTT has a gator-strip buckle
Windlass lock: CAT uses a hook system followed by velcro. SOFTT uses a D-ring.
These differences probably won't mean anything to you unless you are a trained medical professional who uses tourniquets often.
I would stick with the CAT tourniquet. It is more widely used, so you're more likely to find it in emergencies. Further, some claim that putting the CAT tourniquet in place is easier.
Certification
When looking at tourniquets, you'll want one that the CoTCCC recommends. The group tests tourniquets under stress with Doppler sonograms to determine whether they will fail.
The CoTCCC comprises trauma surgeons, combat medics, emergency physicians, and others with a vested interest in the quality of medical equipment. The group is endorsed by the American College of Surgeons and the National Association of EMTs.
Currently, the CoTCCC only recommends the CAT and SOFTT tourniquets. Thus, these are the only ones we can, in good faith, recommend.
CoTCCC vs. TCCC
Be warned: CoTCCC is not the same as TCCC Approved. The CoTCCC doesn't approve tourniquets or other medical devices.
NOTE: To influence buyers, some manufacturers created the for-profit trademark "TCCC Approved." This trademark on a tourniquet says nothing about quality.
WARNING: Counterfeit Tourniquets
You'd be surprised what a huge problem counterfeit tourniquets are. The FDA issued a warning about it as far back as 2010. The problem hasn't been resolved since then. Interpol Washington had to give an Orange warning because the fakes posed such a risk. They have shown up everywhere, even in the US military.
How dangerous are counterfeit tourniquets? Consider what happened in New Hampshire.
Two paramedics responded to a motorcycle crash. The victim had uncontrolled bleeding, so they went to apply a tourniquet. The CAT turned out to be a fake. While using it, they experienced a "catastrophic failure" when the rod snapped in half. The tourniquet couldn't be tightened, and the victim lost his life.
How to Spot Take Tourniquets:
Price: If the price seems too good to be true, it probably is. Don't be stingy when buying equipment meant to save lives.
Unknown Seller: CAT tourniquets are made by North American Rescue and are only sold by authorized distributors.
Logo and Supply Number: Real CAT tourniquets will have the CAT logo and supply number on their side.
E-CAT tourniquets are fake. A company in China makes these cheap knockoffs. You can read about how to spot these fakes here.
Buy real CAT-7 tourniquets here. 
Buy real SOFTT tourniquets here. 
Choosing a Tourniquet
We can recommend only two tourniquets: The CAT-7 and the SOFTT-W tourniquet. These are the only ones that the CoTCCC has recommended. Again, I warn you against buying cheap tourniquets because their tension rods or buckles could easily snap.
I'll still review the features you must look for when choosing a tourniquet, though. Knowing these features can help if you need to make an improvised tourniquet.
Width
Never use a thin tourniquet like a narrow tube. These are more likely to cause tissue damage and will be much more painful for the patient.
You need a wide tourniquet that can put pressure on a larger tissue area. The CAT-7 and SOFTT-W tourniquets are 1.5 inches wide.
Tourniquets for Children
Recent studies have shown the CAT tourniquets effective on children ages 6 to 16.
For Pets
You can also buy tourniquets for pets, there are a few options available, but we recommend the TacMed K9.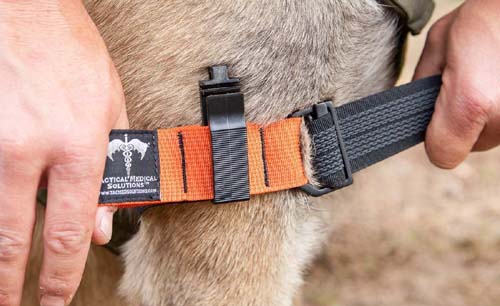 Types of Tourniquets
There are four types of tourniquets. We recommend getting a windlass tourniquet (both CAT and SOFTT are windlass).
They are easier to apply with one hand. Further, they are more reliable. The windlass tightening system makes it easier to get enough pressure. You can't do this with other types of tourniquets.
Windlass
Though simple, these tourniquets are very effective. They consist of a strap in a loop shape that goes over the limb. The windlass is usually a rod that gets turned to tighten the strap.
If you need to make an improvised tourniquet, you will also want to use the windlass system. This will allow you to get the tourniquet tighter.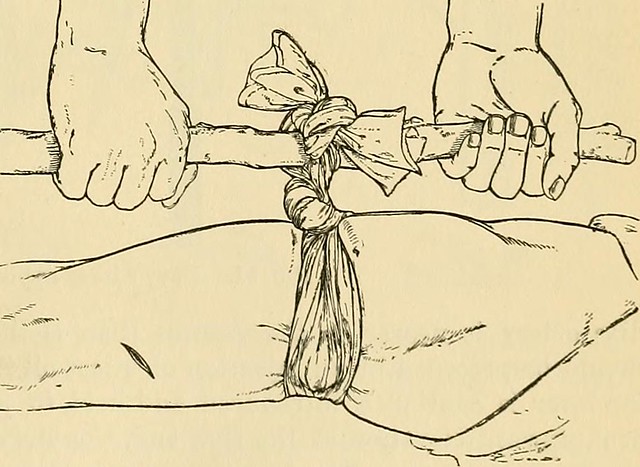 Elastic band
These tourniquets are made from long pieces of elastic or stretchy material. To use,  you wrap them around the limb several times, then tuck in the end. They are easy to use but hard to get enough pressure.
Ratcheting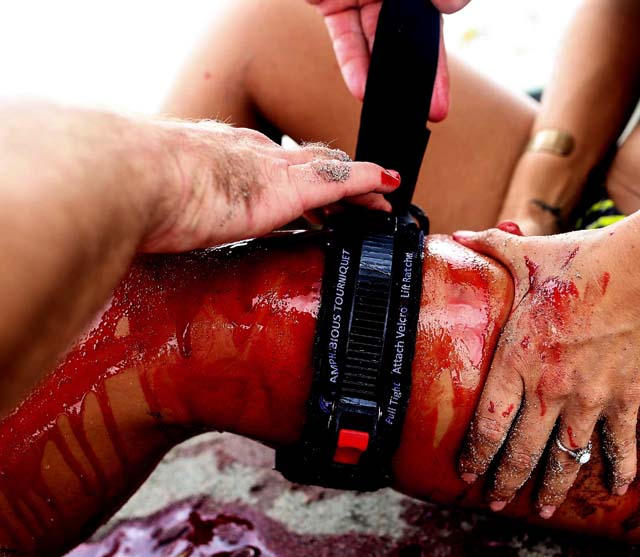 If you've ever worn ski boots, you'll be familiar with the ratcheting system used in these tourniquets. These are not recommended. There is a high failure rate because skin or clothing can enter the ratcheting system.
Pneumatic
These are also not recommended for most people. They use an inflatable bladder to create pressure and stop blood flow. They are more challenging to apply and generally only seen in hospitals. (8)
Other Tourniquet Features
Smooth material: You want the tourniquet to be smooth without rough edges. Tourniquets which aren't uniform are more likely to cause tissue damage.
Easy to use: You should be able to figure out the tourniquet intuitively.
Durability: This goes back to what we said about avoiding cheap, counterfeit tourniquets. The windlasses can easily snap on these, causing them to fail.
Having Your Tourniquet Ready
It will be useless if you don't have your tourniquet with you when needed. A simple solution is to get a tourniquet carry case.
They are primarily available as belt pouches, ankle holsters, or with MOLLE webbing. You'll want one that has a pull tab for quick deployment.
Check out:
---